Memorandum of Understanding between SESI and GERMI
Solar Energy Society of India (SESI) has signed an Memorandum of Understanding with Gujarat Energy Research and Management Institute (GERMI) which was signed by Dr. Harinarayana, Director, GERMI and Shri Rajinder Kumar Kaura, Vice President, SESI on 12th January, 2014 at Gujarat.
SESI: SESI registered under the Societies Registration Act, 1980. SESI is the Indian Section of the International Solar Energy Society (ISES) and is a not- for- profit organization. The main objectives of SESI are to advance, promote and propagate the use of all forms of renewable energy throughout the Country.
GERMI: GERMI is a centre for excellence in industry learning recognized Scientific and Industrial Research Organization and is set up to develop human resource assets to cater to the renewable as well as non-renewable energy sectors, improve knowledge base of policy makers and technologists and provide a competitive edge to leaders to compete in the global arena.
Though in this MoU both the parties have reached an understanding to combine their strengths and experiences towards mutually agreed upon objectives which is as follows in brief:
The Understanding
The parties hereto intend that there are synergies in each other's activities which could be utilized for mutual benefits and in turn benefit of the society at large.
Parties wish to establish a cooperative and supportive team in which each will devote adequate resources including but not limited to skilled manpower, capital equipment, facilities, and other resources to timely support the activities of this MoU.
Both parties agree to mutually work together,
to promote capacity building for management, design and installation of a rooftop solar PV systems well as for its operation and maintenance;
for developing high quality Rooftop Solar PV Systems and spreading the same throughout the state;
to develop and standardize training programs that can be recognized by the state for such rooftop solar PV technicians;
for successful program implementation and its widespread acceptance within the industry; and
towards development and availability of local jobs or entrepreneurship among industries or people respectively.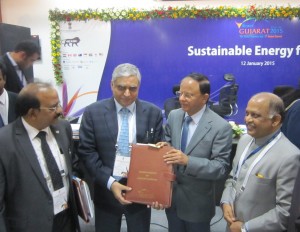 ---
SESI Statutes/Byelaws
SESI STATUTES
---